This information is part of the Modelica Standard Library maintained by the Modelica Association.
This controller can be used both for DC/DC and AC/DC converters. The signal input of the PWM controller is the duty cycle; the duty cycle is the ratio of the on time to the switching period. The output firing signal is strictly determined by the actual duty cycle, indicated as d in Fig. 1.
Fig. 1: Firing (fire) and inverse firing (notFire) signal of PWM control; d = duty cycle; f = switching frequency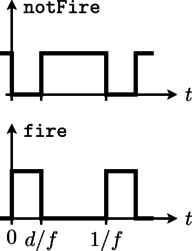 The firing signal is generated by comparing the sampled duty cycle input with a periodic saw tooth signal [Williams2006].